Events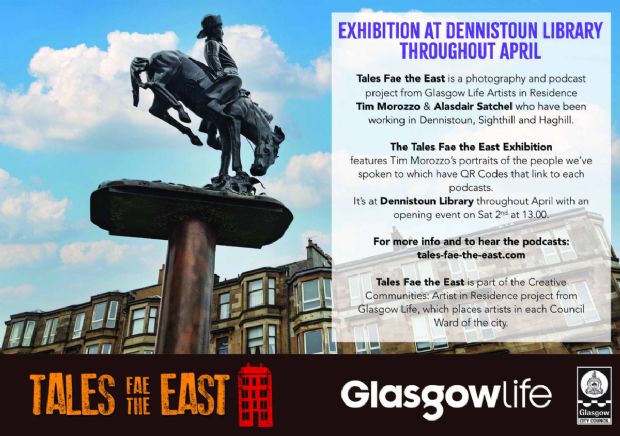 Tales Fae The East Exhibition
placeDennistoun Library
event2/04/2022 - 30/04/2022

Photographs of participants in an artists in residence project where artists are placed in each Council Ward of the city of Glasgow as part of the Creative Communities funded by Glasgow Life. The Artists in Residence for Dennistoun, Sighthill and Haghill are Tim Morozzo (photography) and Alasdair Satchel (podcasts).
The podcast conversations are about the lives of the people of Dennistoun, Sighthill and Haghill beginning with Irene McInnes of Reidvale Housing Association and continues with other captivating stories from locals including: artist Mitch Miller, actress Elaine MacKenzie Ellis, writer Stuart Cosgrove, tailor Alis Le May, hairdstylist Robert Macaulay, TV producer Barbara Orton, Bolt FM coordinator Mark Chambers and cafe owner Lewa Thomas. The full list of noted locals interviewed can be found on the Tales Fae The East website.
The photographs at the exhibition have a QR Code that point to their respective podcast.
https://tales-fae-the-east.com/
https://www.facebook.com/TalesFaetheEast
Apr 5, 2022