Dennistoun Digest

The Dennistoun Story
Let us consider our two neighbouring districts of Riddrie and Carntyne. A number of the streets in Riddrie are named after Scottish Rivers, while those in Carntyne take their names from districts of Edinburgh, like Abbeyhill, Inverleith, Myreside, but this tells us nothing about how these districts came into being. The Dennistoun Story, on the other hand, is mostly written in its street names. Find the origin of these names and you have the key to the Dennistoun Story.
Dennistoun and the Surrounding Districts in the East End of Glasgow
Dennistoun was originally drawn up to have detached and semi-detached villas. However the plans changed to accommodate the demand for what has now become Glasgow's traditional sandstone tenement.
It's not the place that's important but the people who live in it
The who's who of Dennistoun characters who have at least passed through one day of their lives here.
The Evolution of the Glasgow Tenement
Using Dennistoun as a case study, Peter Douglas charts the evolution of tenement housing in Glasgow from 1860 to 1914.
Ian R. Mitchell - Walking in Glasgow's East End
Around Brigton Cross - Glasgow's Changing East-End
Scottish Nursery Songs and other Poems
Scottish poet and songwriter William Miller lived most of his life in Dennistoun. His book published in 1863 includes the world renowned "Wee Willie Winkie".
Time Line
Important Dennistoun Historical Dates
In Profile


Anne Smith is the author of "TWO WEE LASSIES UP A CLOSE, Memories of A Glasgow Childhood in the 1940s and 1950s".
She has lived most of her life in the village of Pannal, near Harrogate, Yorkshire but this is her story of when she was a wee lassie called Anne Grant who grew up in a Glasgow tenement at 38 Aberfeldy Street and went to St Thomas's Primary School in Riddrie with her childhood friend Terry Murphy from 35 Aberdour Street.
James Coulter - Young Sports Person of the Year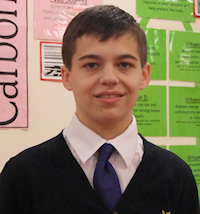 On Friday the 28th of February 2014 the City Chambers played host to the Sports Person of the Year Awards which celebrated Scottish sport's action heroes, dedicated coaches and selfless volunteers who have given up hundreds of hours of their time to the sports they love. Around 250 athletes, sports fans, club leaders, school pupils, volunteers and coaches gathered for the celebrations as winners were revealed across 13 categories. Karate star James Coulter was presented with the Young Sports Person of the Year Award by Evening Times assistant editor Graham Shields.
Grace Anne Williamson
Works at Aberlour Child Care Trust's Running: Other Choices (ROC) Refuge in the city, has been named "Residential Care Worker of the Year" by the British Association of Social Workers in Scotland. She received her award from Children and Early Years Minister Adam Ingram at a special ceremony in Edinburgh on the 16th January 2008.
Peter Curran
The author of "THE ANCIENT ORDER OF MORIDURA", a scientific thriller with a Scots hero and an American heroine. Peter was born in Dennistoun and now lives in a village near Edinburgh. A former human resources director in the brewing industry, he set up his own consultancy business in 1988, specialising in negotiating skills and management development, and working extensively with the Scotch whisky industry, Royal Mail and in pharmaceuticals.
Campbell Armstrong I left Glasgow for London in 1962. It was what you did in those days when you dreamed of making a living from writing. I made occasional return trips during the 1960s and then I went to the United States, initially for one year which turned, without my seeming to notice, into 20. Twenty years without seeing your native city is a long time, too long.
Jamie Allan Brown
A senior pupil at Whitehill Secondary, Jamie was headhunted by Unicef to become one of their United Kingdom youth representatives - there are only two in the whole of the UK.
Samuel Reilly
Sam Reilly, formerly from Dennistoun, has published his personal account of his time as a collector salesman in Glasgow.
Peter Young
Peter Young now lives in Denmark and is singer-songwriter with Bluevale and editor-publisher of the educational newspaper - The School Times International.
Articles


Keep Dennistoun Litter Free
Bulk Refuse Uplift Days for Your Street
Improving Dennistoun's cleanliness is a responsibility shared by you, your family, your neighbour, local businesses and Glasgow City Council.
Consumer Views of Factoring in Dennistoun
In December 2006 we were asked by the Scottish Consumer Council to undertake a short study to look at consumer experiences of factoring services in the Dennistoun ward of Glasgow. We carried out a survey of home owners, two public events and interviews with factoring companies in the area.
Dennistoun Property For Sale
Properties in Dennistoun range from highly desirable spacious flats within traditional sandstone buildings to modern townhouse developments with en-suite and private parking. Prices range from £75000 - £300000.
Dennistoun Property To Rent
Dennistoun is located on the east fringe of Glasgow City Centre and maintains a high amenity position with good bus links, excellent local shopping, cafes, bars, schools, college, municipal park, rail stations and easy access to the M8 motorway. Easily accessible to Strathclyde and Caledonian Universities and The Royal Infirmary. Flats for rent start at approximately £94 per week.
International Rowing
Several Dennistoun based members of Clyde amateur rowing club competed in the recent Festival of rowing in the recently upgraded Cardiff bay. The pair of Karl Farmer and John Ritchie were selected to row for Scotland in the Home Countries Match.
Clubhouse Centenary & The Scottish Rowing Championships
Recently the Clydesdale Clubhouse celebrated 100 years of its existence and service to Clydesdale, and more newly, Clyde and Strathclyde University rowing clubs. The members of Clydesdale Rowing Club attended the Scottish Rowing Championships at Strathclyde Park. As ever the event was well attended leading to fierce competition throughout all events.
Oarsome Project launched on the Clyde
Clydesdale Amateur Rowing Club is making rowing more accessible to all communities in Glasgow with the purchase of a new club boat and oars.

Quick Links


Memoirs and Portraits of 100 Glasgow Men: Alexander Dennistoun
We want your article or story on Dennistoun! Fill out our online form to get published!
Nov 28, 2014