News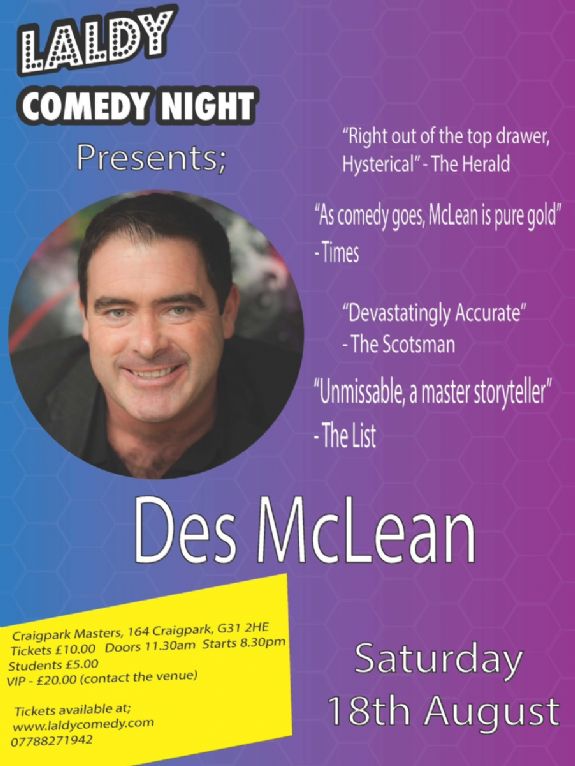 Laldy Comedy Nights at Craigpark Masters
Craigpark Masters Snooker Club, 164 Craigpark, Glasgow G31 2HE
Chrissy Ross, owner of Laldy Comedy said: "The nights are essentially for the local community to enjoy, so come out and give it a try. You are getting a quality show for nearly half what you'd pay in town for similar."
The latest line up from http://laldycomedy.com performing between now and the end of the year is listed below, so grab your tickets fast to avoid missing out!
Des McLean Solo Show
18 August 2018
Chrissy Ross's 'Hesitation Remarks'
With support from Gary Faulds & Kimi Loughton
25 August 2018
Mark Nelson
With support from TBC
15 September 2018
John Gavin
With support from MC Rachel Jackson, Jay Lafferty, Joe McKeown & Declan McGuigan
6 October 2018
Gary Little
With support from MC Gus Lymburn, Ross Leslie, Joe McSloy, Tony Fibbers
3 November 2018
Gary Meikle
With support from Ashley Storrie, Joe McTernan, Liam Farrelly
8 December 2018
Tickets: Book Online - Call 07788271942 - At the door.
Jul 30, 2018