Digest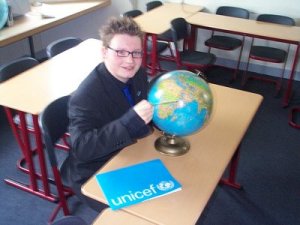 Jamie Allan Brown - Dennistoun Pupil Chosen as UNICEF Youth Representative
Jamie Allan Brown (17) is the only Scot to be chosen to campaign on behalf of Unicef to improve the plight of children around the world. A senior pupil at Whitehill Secondary, Jamie was headhunted by the charity to become one of their United Kingdom youth representatives - there are only two in the whole of the UK.
Jamie believes that getting involved in even the little things in your community can make a big difference. From the day he started secondary school he became an active representative on the school's Pupil Council. With five years experience in this role he is now the elected chairman with the aim of building a better learning environment for all pupils. Jamie also represents his school at the citywide Glasgow Student Council held at the Glasgow City Chambers and this led him to be involved in the Glasgow Anti-Racist Alliance (GARA) as Board Director.
Jamie is presently studying Higher English, Maths, Information Systems, Business Management and Modern Studies. In his role as a spokesperson for young people he has also been trained in Anti-Racism, Equality Law, BBC Media Training and Charity Board Directorship Management. When he heard about Unicef Youth Voice during a meeting with GARA he saw an opportunity to put his new skills learned locally to good use internationally.
Unicef Youth Voice is a new initiative to involve children and young people under the age of eighteen in the work of the global champion for children's rights. Jamie applied to the charity to become a Unicef advisor but they were so impressed at that interview they offered him the top youth representative job. Jamie said, " I felt it was a great honour to be selected as one out of two representatives for the whole of the UK".
Jamie will now be travelling to Ethiopia to learn about social land health projects and particularly, their impact on children.
Jan 27, 2011