Digest
It is not the place that is important but the people who live in it
Dennistoun has had some very distinguished people either born, educated or lived in the area. This is the who's who of Dennistoun characters who have at least passed through one day of their lives here.
Dr June Almeida
(1930-2007) Virologist
June Hart was born and raised in a tenement at 10 Duntroon Street, near Alexandra Park, Dennistoun. She attended Alexandra Parade Primary School and Whitehill Senior Secondary School. She left formal schooling at the age of 16 to work as a lab technician at Glasgow Royal Infirmary. Her career developed in electron microscopy by pioneering a method to visualise viruses by using antibodies to aggregate them. Using this method she discovered the first human coronavirus and some 50 years later virologists are using this method to identify COVID-19.
Campbell Armstrong
(1944 - 2013) Author
Campbell Black was born Thomas Campbell Black in Govan and attended Golfhill Primary School and Whitehill Senior Secondary School in Dennistoun. He graduated with a degree in Philosophy from the University of Sussex, England. He taught creative writing from 1971-74 at the State University of New York at Oswego; from 1975-78 he taught at Arizona State University. He worked for some years as a fiction editor with various London publishing houses. After living for many years in England and the United States, he moved to Shannon Harbour, Ireland. He died on 1 March 2013, four days after his 69th birthday.
His novels Assassins & Victims and The Punctual Rape won Scottish Arts Council Awards. The Last Darkness and White Rage were nominated for the Prix du Polar. His quartet of Glasgow novels consists of The Bad Fire, The Last Darkness, White Rage, and Butcher. He also wrote a memoir titled All That Really Matters, retitled in the United States as I Hope You Have a Good Life. His work has mainly been influenced by R L Stevenson and he ascribes a certain 'dark apect' of his writing to the opening scenes of Treasure Island. Among other influences he includes Kafka, Fred Vargas, Kobo Abe, and Camus. His books have been translated into French, German, Greek, Japanese, Italian, Hebrew and Polish.
Biography from wikipedia with additions and modifications
See also: Campbell Armstrong's Return to Glasgow
His website: http://www.campbellarmstrong.com/
Obituary: in Herald Scotland
Stevie Chalmers
(1936 - 2019) Football Player
Scotland International football player. He played centre-forward for Celtic 1959-71 and was a prolific goal scorer noted for scoring the winning goal for the Lisbon Lions in the 1967 European Cup final. He lived in a room and kitchen in Viewpark Avenue around 1960.
Alexander Dennistoun
(1790 - 1874) Founder of the Glasgow district of Dennistoun
The eldest son of a successful merchant family. He went to New Orleans at the age of 30 and worked for the family business in the cotton trade. He returned to Britain and worked at the Liverpool branch before spending several years in France.
He returned to Glasgow after the French Revolution of 1830 and became the elected Liberal MP for Dumbarton in 1834. On the death of his father the following year he took up residence at Golfhill and became director of the Union Bank of Scotland.
From 1856 he purchased the neighbouring estates of Golfhill and employed the services of local architect James Salmon to draw up plans for the new suburb of Dennistoun where the first feus were given off in 1861.
Memoirs and Portraits of 100 Glasgow Men: Alexander Dennistoun
James Dennistoun
Lonnie Donegan
(1931 - 2002) Singer/Songwriter
Born Anthony James Donegan he was raised in a tenement in Duke Street from the age of eight. He moved to London and became one of the UK's most successful and influential recording artists in the fifties. Known as the "King of Skiffle", he wrote "My Old Man's A Dustman" and received an MBE in 2000 for services to popular music.
Rikki Fulton
(1924 - 2004) Actor
Rikki Fulton's parents married and set up home in a room and kitchen in 55 Walter Street. They bought a newsagent shop at 28 Roebank Street and purchased another some years later in Cumbernauld Road and for a short while lived in the back of the Roebank Street shop until moving to a room and kitchen at 46 Appin Road. It was in this top floor flat that Robert (Rikki) Fulton was born and raised in his first few years.
The youngest of three boys, he and his family later moved to Riddrie. He was a pupil at the local Riddrie primary school and then returned to Dennistoun as a pupil of Whitehill Secondary School. He left Whitehill in 1939 and his talent as a performer became evident during a turn of acting in the St. Andrews East Church Hall. He later volunteered at the age of 17 for the Navy in 1941 and almost lost his life when his ship the Ibis sank under enemy fire in the Mediterranean during the Second World War.
Rikki Fulton was compere to the big music bands, a voice on radio, and actor on stage and screen. Most notably he was one half of the Francie and Josie duo that continued for many years on stage and successfully carried over to television. He also performed in the comedy television program Scotch and Wry and the highly acclaimed film Gorky Park. His latest character, the despondent Reverend I. M. Jolly, would broadcast his melancholy remarks to the people of Scotland just before the beginning of a new year. Rikki Fulton received an honorary doctorates from St Andrews University June, 2000.
Alasdair Gray
(1934 - 2019 ) Artist / Author
Born in Riddrie, Glasgow and educated at Whitehill Secondary School he graduated from Glasgow School of Art in 1957 and taught there some five years later. A selection of his artwork is displayed at the People's Palace in Glasgow Green. He also published several plays and books:Lanark(1981), Janine (1982) and The Anthology of Prefaces(2000). His book Poor Things won the Whitbread Novel of the Year Award and "The Guardian" Fiction Prize. The Anthology of Prefaces(2000); Poor Things (1992); Something Leather(1991); Janine(1982); Lanark(1981). He was awarded the inaugural Saltire Society Scottish Lifetime Achievement Award for his contribution to Scottish literature.
Alasdair Gray obituary The Guardian
J. F. Hendry
(1912–1986) Poet, Editor, Novelist, Interpreter
James Findlay Hendry was educated at Whitehill School in Dennistoun and travelled through Europe, Africa and North America becoming a translator with the United Nations.
more >>
John Higgins
(1975 - ) Professional Snooker Player
The Wizard of Wishaw, practiced at the Craigpark Masters Snooker Club in Dennistoun and turned professional in 1992. He became the first teenager to win three ranking tournaments (UK, World and Masters) in one season in 1994/5.
Tom Honeyman
(1891 - 1971) Doctor, Art Dealer, Museum Director
Born in Glasgow he was a medical student at Glasgow University and became a general practitioner in Dennistoun. He later changed career after 10 years as a GP and worked as an art dealer in London. He returned to Glasgow to become the city's first director of museums and art galleries in 1939 and acquired Dali's "Christ of St John of the Cross". He was also instrumental in acquiring Sir William Burrell's collection of 8,000 art pieces and setting up the Citizens Theatre.
Jack House
(1907 - 1991) Author, Journalist, Historian, Broadcaster
Raised in Dennistoun and went to Haghill Primary School. He wrote for popular Glasgow newspapers the Evening Citizen and later the Evening Times. He was a walking encyclopaedia of facts on all aspects of Glasgow that he was affectionately known as "Mr Glasgow". He was honoured with Glasgow's St. Mungo Prize in 1988.
Johnny Ionta
( - 1993) Barber
Johnny ran the Ionta barber shop with brother's Danny (Domnick) and Tommy in the east end of Glasgow. The renowned establishment was situated up a close in the Gallowgate where Johnny and his family lived before moving to Dennistoun. People would come from far and wide, not only for "the best" haircut in town, but also for Johnny's witty patter which entertained his waiting customers. The caricatures were provided by Bill (Big Wullie) Mc Ilroy who "..spent many hours at the Ionta barber shop".More on the Open Forum.
Alex Kapranos


(1972 - ) Singer
Alex Kapranos lived in Dennistoun and is lead singer in the hugely successful Glasgow band Franz Ferdinand. The bands debut album written at Kapranos's flat was released in February 2004. It won the Mercury Music Prize and sold more than two million copies in its first year. The band won best British Rock Act and best British Group in the 2005 Brit Awards. They had a successful tour of America and were nominated for three GRAMMY awards. They also took top honours at the NME Awards (Feb 2005) receiving best album award and best track for Take Me Out.
John Kazek
(1963 - ) Actor
Lives in Dennistoun, his formal training was at the Royal Scottish Academy of Music and Drama in Glasgow. Theatre is his first love; Pleasure and Pain (Citizens), The Slab Boys Trilogy (Traverse), Penetrator (Tron), Kidnapped (Lyceum), Driving Miss Daisy (Byre) he has also been seen on television; High Road, Taggart, Auf Wiedersehen Pet, Casualty, Rab C. Nesbitt, Punchdrunk and film roles in Nervous Energy, and Riff-Raff. He plays Ally in the film Dear Frankie to be shown 2004.
John Kazek was awarded the 2003 Critics Award for Theatre in Scotland For Best Male Perfomance (Pleasure and Pain).
George Key
(1882 - 1958) Footballer
George was born in Dennistoun and played for Heart of Midlothian, Chelsea FC and he was in the Scottish National Team 1902.
Ford Kiernan
(1962 - ) Actor / comedian
Born in Dennistoun and educated in Alexandra Parade Primary and Whitehill Secondary. As a young boy Ford washed cars for pocket-money and had fun with his impersonations, jokes and songs. On leaving school he tried his hand at everything; driving, labouring, bar work and tailoring. He worked in the popular clothing shops of the time in Glasgow including City Cash and Mann the Tailor. It was in marketing that he gained the confidence required for stand-up comedy. Ford now brings to the television and stage his own brand of near-the-knuckle humour in Chewin' The Fat and Pulp Video. He has developed well known characters into household names such as Ronald Villiers, the worst actor in the world and Jack Jarvis in Still Game.
Joseph Lister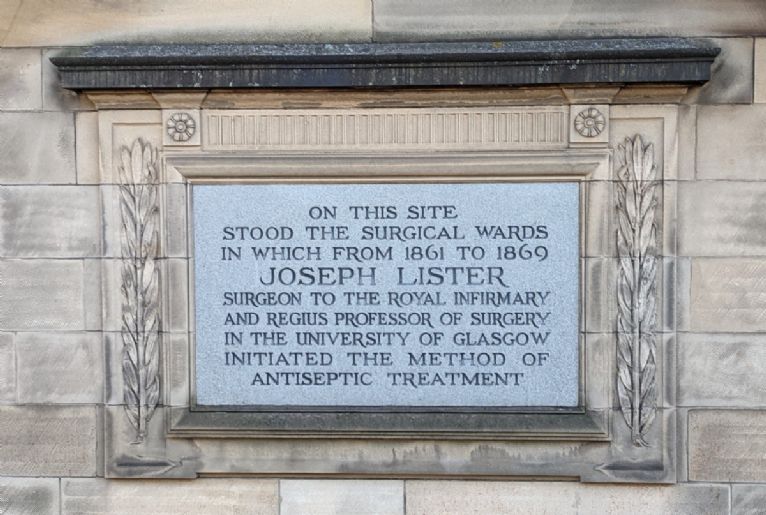 (1827 - 1912) surgeon
Born in Essex he made medical history with his experiments in sterile surgery using antiseptic procedures at Glasgow Royal Infirmary where he used carbolic acid to reduce infection from bacteria.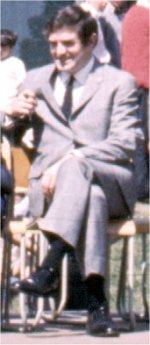 Jimmy Logan
(1928 - 2001) OBE, Actor, Entertainer, Theatre Owner
Born James Allan Short at 3 Inglis Street in Dennistoun on 4th April. His grandparents lived in Bluevale Street. He left school at 14 to work in the theatre and at 19 he was principal comedian at the old Metropole Theatre on Stockwell street. His career spanned Variety, Radio, TV and Film and he also starred for many years in pantomime including the London Palladium. His one-man musical which he wrote based on the life of Sir Harry Lauder was well received in 1976. He toured Canada and the US where he appeared at Carnegie Hall in New York. He purchased a theatre in Glasgow and the actor-manager staged both variety and plays as well as a Royal Performance with Princess Margaret in attendance. His films include: Floodtide with Gordon Jackson, Captain Jack with Bob Hoskins and The Debt Collector with Billy Connolly. He was awarded an honorary doctorate by Glasgow Caledonian University in 1994, an OBE for his charitable works in 1996 and was elected a Fellow of the Royal Scottish Academy of Music and Drama in 1998.
Lulu
(1948 - ) Singer
Born Marie McDonald McLaughlan Laurie in November 1948 she grew up in Garfield Street and went to Thomson Street Primary School, Dennistoun. Her father worked in an abattoir and her mum worked in a bread shop. She is the eldest of four children, singing since the age of three, and publicly performing at the age of nine. She had a hit with Shout in 1964 and won the Eurovision song contestwith Boom Bang-A Bang. She played Adrian Mole's mother on TV and got a guest spot on Morcombe and Wise and later in Absolutely Fabulous. She sang two movie themes, To Sir With Love for the film of the same name with Sidney Poitier and The Man With the Golden Gun, the James Bond film.
After two failed marriages she came back with a flourish with her 1993 song Independence. She has had 16 top 40 hits including her first ever number one with boy band Take That in 1993 with Relight My Fire. Latest film, Whatever happened to Harold Smith with Tom Courtney and has released a new album, Where the poor boys dance, co-written with her brother Billy. She was main anchor in Red Alert the television program that precedes the UK national lottery game. Received the OBE in the Queen's birthday honours list 2000.
Johnny Mackenzie
(1925 - 2017) Professional Football Player
John Archie MacKenzie The Firhill Flyer was a strong, fast and skillful right winger for Partick Thistle. He was born in Dennistoun and shared his early years between Glasgow and Tiree in the Hebrides where his mother came from. He returned to Glasgow to take up an apprenticeship with a Glasgow engineering company and played for junior club Petershill. He signed for Thistle in 1944, a few months before receiving his call-up papers for the army where he joined the Scots Guards. He was loaned to Bournemouth and QPR before returning to Thistle in 1948 where he played in three League Cup Finals and was in the Glasgow Cup winners team 1951, 1953, 1955. He also played for Scotland nine times.
Johnny played for Fulham 1958 returned to Thistle and went on to play for Dumbarton 1960. He moved to Ireland to play for Derry City at the age of 37 where he helped them win the Gold Cup, Irish Cup and the Irish League Championship. He later coached for Third Lanark in 1967. The Firhill Flyer who played nearly 400 games for Partick Thistle now resides in Tiree.
Obituary - John Archie MacKenzie, the only native Gaelic speaker to be capped at football by Scotland - Herald Scotland
Charles Mackintosh
(1766 - 1843) Inventor
Discovered how to waterproof material using India rubber and now has raincoats named after him. His factory was in Wellpark.
Charles Rennie Mackintosh
(1868 - 1928) Architect, Designer & Artist
Outstanding architect and designer of the Art Nouveau style. His parents married and lived in Dennistoun until they moved to Townhead in 1863. He was born in Parson Street, Townhead and they returned to Dennistoun where Charles lived at 2 Firpark Terrace (c.1875-1892). He was educated at Allan Glen's and later at Glasgow School of Art. He was employed by architects Honeyman & Kepple in 1889. He was to design many Glasgow buildings: Martyrs Public School, Scotland Street School, Glasgow School of Art, Queens Cross Church, Daily Record Building and the Willow Tearooms.
Angela McCluskey
( - ) Singer, Songwriter
Angela was brought up in Bellfield Street Dennistoun, moved to London where she worked for EMI Records and then later settled in New York. She performed as a solo artist and also as vocalist for bands: "The Wild Colonials", "Curio", "Triptych" (with husband Paul Cantelon) and "Telepopmusik". She also recorded film soundtracks and television ads for Mitsubishi and Wilkinson Sword. Debute album "The Things We Do" (2004), and released "You Could Start a Fight in an Empty House" (2009)
www.angelamccluskey.comÂ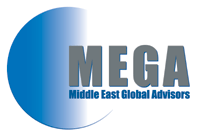 David McLean
(1965 - ) Managing Director and co-founder of MEGA
David was born in Cumbernauld Road and then moved to 35 Marwick Street where he attended Haghill Primary School. David is now based in Dubai where he founded a market leading business information firm focused on the international banking and finance industry. David leads a team that has over the past 15 years built the World Islamic Banking Conference (WIBC) into the largest gathering of Islamic finance leaders anywhere in the world. This iconic brand, which attracts more than 1,000 senior decision-makers from 45 countries, was also launched in London in 2008 as the WIBC European Summit. David has been responsible for internationally extending the portfolio of MEGA brands into Dubai, Singapore, Bahrain, London and Qatar, with a client base comprising the leading players in the international financial markets.
Alan McManus
(1971 - ) Professional Snooker Player
Born in Glasgow, he practiced at the Craigpark Masters Snooker Club in Dennistoun. He turned professional in 1990 and in 1994 beat Stephen Hendry 9-8 in the Benson and Hedges Masters.
Adam McNaughtan
( - ) Folk Singer/Songwriter
Born and raised in Dennistoun and lived at 103 Glenpark Street with his two sisters. He wrote many songs often sung by others including the childrens favourite "The Jeely Piece Song". Also "Oor Hamlet", "Yellow On The Broom", "Blood Upon The Grass" and "Where is The Glasgow". He owns and manages a second hand bookshop and presently lives in the South Side of Glasgow. He sings in the group Stramash.
William Miller
(1810 - 1872) Poet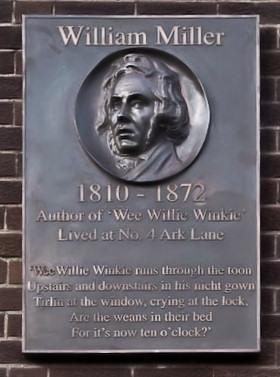 Born in Glasgow he lived most of his life at No.4 Ark Lane. While working as a wood turner and cabinetmaker he also became an accomplished poet and songwriter, having works published in various magazines and also as a collection of nursery rhymes and poems. He died in Glasgow and was buried in the family plot at Tollcross. A public subscription erected a monument to his name in the Glasgow Necropolis and a bronze plaque was mounted on a wall near where he lived on 2nd September 2009 to commemorate his life and his most famous nursery rhyme is Wee Willie Winkie
Michelle Mone
(1972 - ) Entrepreneur
Born and raised in Dennistoun she attended Whitehill Secondary School. Founder of Govan-based MJM International now has a turnover of £3 million (BP) per annum. She left Whitehill Secondary School at the age of 15 and always had burning ambitions to be her own boss. Model turned business accounts manager she set up her company in 1998 after being made redundant. She invented the Ultimo bra that contains cleavage enhancing silicone pouches. Mother of three children she now intends to take her business into America and Japan where she will be launching her new range of swimwear.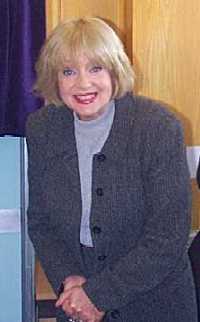 Dorothy Paul
(1937 - ) Actress and Singer
Renowned for her nostalgic observations from her childhood days in Dennistoun, Dorothy Pollock was born in 1937 and lived in a two room and kitchen ground floor flat at 108 Cardross Street and later moved to 2 Whitehill Street. As a young girl she attended Alexandra Parade Primary School and then continued to Whitehill Senior Secondary. She left Whitehill Senior in 1952 and worked as a Junior at the C & A. She also worked for a period with Remnant Kings at Sword Street. She started theatre work after winning a talent contest. In 1957 she played Principle Boy in Aladdin at Edinburgh's Palladium Theatre and continued in Variety working with Jack Milroy and Johnny Beattie. Two years later she was signed up for Scottish Television's The One O'Clock Gang with Larry Marshall, Jimmy Nairn, Charlie Sim and Shiela Matthews. From 1974 onward Dorothy Paul had a spot in Butlins, hosted Housecall, played in Garnock Way, The Steamie, The Celtic Story and Harmony Row and in 1991 she played her first one-woman show.
Bertie Peacock MBE
(1928 - 2004) Football Player / Manager
Northern Ireland International football player. He lived in Eastercraigs and played left-half for Celtic 1949-61. He was awarded the MBE in 1986 for his services to football. A bronze statue of Bertie stands in Coleraine Town Centre, N Ireland.
Alex Rae
(1969 - ) Football Player / Manager
Alexander Scott Rae lived in Dennistoun and as a youngster was educated at Golfhill Primary School. He played for Scotland's under-21's and signed for his favourite team, Rangers but didn't get to play for the first team. He went on to sign for Falkirk (1987), Millwall (1990), Sunderland (1996) and Wolverhampton Wanderers (2001). He re-signed for Rangers (2004) and was player/manager of Dundee FC (2006-2008). He earned a reputation as an aggressive and determined midfielder. Alex founded the Glasgow based charity Second Chance (2007) to help those with drink and drug problems.
Gordon Ramsey
(1966 - ) Chef
Lived in Dennistoun when he was a young boy before moving to England with his family at the age of 10. He later became a successful chef opening his own restaurants and making various TV appearances. In 2001 he opened the Amaryllis restaurant at 1 Devonshire Gardens, Glasgow where it closed three years later.
John Reid
Joseph Scanlan
(1857 - 1945) Doctor MB CM
A noted physician as historian and a speaker of Gaelic. He lived at 375 Duke Street and for a while worked for the Royal Navy. He insisted that all his children (2 boys and 5 girls) obtain a university education. One daughter died young, the other children all graduated from the University of Glasgow. His son James became Archbishop of Glasgow in February 1964. Doctor Scanlan once said, "The best place to save your money is in your head". He died at the age of 88 while residing at 18 Craigpark, Dennistoun.
Dorothea Chalmers Smith
(1874 - 1944) Doctor, Suffragette
Elizabeth Dorothea Lyness was born in Dennistoun, went to Glasgow University and worked as a doctor at the Royal Samaritan Hospital for Women. She was a militant member of the Women's Social and Political Union receiving a WSPU Hunger Strike medal awarded to suffragette prisoners who had gone on hunger strike for not being recognised as political prisoners. The medal was later donated to the People's Palace by one of her daughters.
https://en.m.wikipedia.org/wiki/Dorothea_Chalmers_Smith
St Mungo (St Kentigern)
(520-603) Patron Saint of Glasgow
Mungo was the son of Thenew, daughter of the King of Lothian. He trained in a monastery at Culross and built a church on the banks of the Molendinar Burn in what was to become Glasgow. The site is now occupied by Glasgow Cathedral where the Lower Church houses St. Mungo's tomb. He is reported to have performed many miracles some of which are now embodied in the Glasgow coat of arms and in the popular Glasgow verse:
Here is the bird that never flew.
Here is the tree that never grew.
Here is the bell that never rang.
Here is the fish that never swam.
Charles Patrick Tully
(1924-1971) Football player
Born in Belfast he later came to live in an upstairs tenement flat at 150 Roebank Street. The flat was used by Celtic football Club to provide accommodation for its players. During his time with Celtic (1948-59) the club twice won the Scottish Cup.
William Wallace
(1272-1305) Scottish patriot
Chief champion of Scotland's independence. He defeated the English Garrison at the battle of the Bell O' The Brae (High Street) in 1297.
David Williams
( - ) Arts Manager, Producer
Lives with his family in Dennistoun. His career has taken him from the Cambridge Arts Theatre to Executive Director of Scottish Ballet including posts at the Theatre Royal, Stratford East and English National Ballet. He was consultant for a number of arts organisations, such as The Queen?s Hall and The Traverse Theatre in Edinburgh. He became Chief Executive of The King's Theatre, Glasgow on 1st June, 2002 when the Ambassador Theatre Group took over operations from Glasgow City Council.
Adah Younger
( - ) Reverend
Adah (Adamina) Younger grew up in Possilpark, Glasgow. She attended Jordanhill College and Glasgow University where she studied Divinity. She established a cafe in Dennistoun to provide work experience for local young people and was the minister for Dennistoun Central Church of Scotland 1996-2004. Adah Younger served 25 years in the ministry and was the first woman Moderator of the Church of Scotland Glasgow Presbytery 2003-2004.
Jun 23, 2014