Digest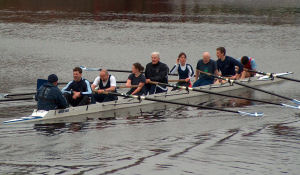 Clubhouse Centenary and the Scottish Rowing Championships
Scratch 8 performed at the Centenary celebrations
Recently the Clydesdale Clubhouse celebrated 100 years of its existence and service to Clydesdale, and more newly, Clyde and Strathclyde University rowing clubs. This once majestic wood-framed building, erected on the bank of the river Clyde, holds the status and protection of being a Listed Building and features in countless fond memories of rowers from ages past and present. Unfortunately our beloved building is now showing its age, but still continues to house many of Scottish Rowing's talents of the future, as well as a few from its past!
The clubhouse has had a colourful and sometimes surprising past. Few know that it was associated with the founding of Rangers FC. Indeed, several members of the Rangers first team appear on the Clydesdale Rowing Clubs membership role at the same time. However the links between rowing and football were not always harmonious, with the rowing club minutes of 1870 complaining bitterly about oarsmen's preference for playing football instead of rowing!
The building itself was also commandeered by the civil defence during the war and was until fairly recently lit only by gaslight.
The 3 clubs chose to mark the centenary of this remarkable building by holding a Scratch Regatta followed by a barbecue in the grounds. In true Glaswegian style the special day was met by pouring rain, gale force winds and broken boats! However the indomitable spirit of all the rowers and their affection for the old building meant that the day was thoroughly enjoyed by all participants and hailed a great success.
Many thanks for all of those helping to make it a memorable occasion, and here's to another 100 years of rowing on the Clyde!
The Scottish Rowing Championships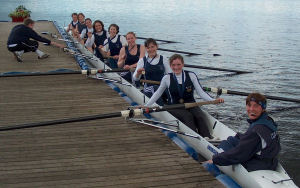 Novice 8 collecting there championship medals
On the weekend of the 11th/12th June the members of Clydesdale Rowing Club attended the Scottish Rowing Championships at Strathclyde Park. As ever the event was well attended leading to fierce competition throughout all events. However, Clydesdale showed great strength and tenacity to secure a number of wins over rival clubs.
M. Wade, of the men's senior squad, rowed a well planned race to secure a win in the men's single sculls, joining his fellow athletes C. Philips and T. Mc Guinness who also fought off opposition to win in a composite light weight 4 and intermediate singe scull, respectively.
The senior women quad, consisting of E. Dorman, F. Jacob, M. Jowitt, L. Kelly and S. Young, displayed great strength; stamina and versatility by clamming wins in the women's open coxless, coxed and lightweight fours, pair and eight. Not to be out done, the novice women also fought a hard battle to victory in the novice eights, securing senior status for next season for S. Davidson, A. Eadie, L. Flament, J. Hastie, S. Pirie, E. Sizoo, L. Smith and K. Toal.
Once again the veteran squad excelled, giving everything to ensure victory in the men's four and single scull (D. Nolan), before digging deep to hold on to their lead in the eight. ( M. Colgan, G. Day, J. Eadie, D. Paterson, O. McGhee, G. Simpson, R. Walsh, M. Williamson). As for the veteran women, A. Ord added to her collection of medals with a win in the veteran quad and double.
The race of the regatta came from L. McGowan who showed huge spirit and determination, exploding into the final stretch of his men's junior sculling race to take 1st place.
This season has seen Clydesdale go from strength to strength with many athletes looking forward to possible selection for the Scottish Rowing Squad at the end of July. However, the club is always looking for new members of all ages and abilities to join them on there way to further victories.
Jun 2, 2007