Digest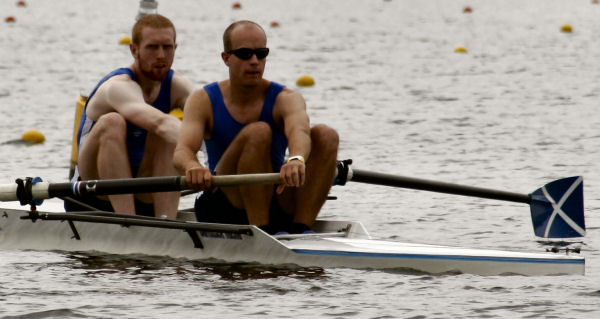 International Rowing
John and Karl with the Saltire oars of Scotland
Several Dennistoun based members of Clyde amateur rowing club competed in the recent Festival of rowing in the recently upgraded Cardiff bay. The pair of Karl Farmer and John Ritchie were selected to row for Scotland in the Home Countries Match. A strong start saw them in the thick of the action, and they disposed of the Welsh pair quite quickly. However, the Irish and English crews judged the course - 500M shorter than the usual two kilometers - more effectively, and the Scots dash for the line came too late.
Niall Darroch, who is also a member of Strathclyde university's rowing team, joined with fellow club members to row in the European Universities championships as the picked Scottish lightweight four and open pair. This competition was attended by fifteen European nations, many of whom sent their National under 23 squads. However, the Scottish crews made it to the finals on Sunday, both finishing fifth. The pair in particular was an exciting race, with the lightweights pulling out a blistering start against international opponents with both height and weight advantage. However, this desparate pace could not be maintained, and the heavyweights pulled through the bronze medal position the Glaswiegans had fought so hard to attain.
In all Clyde ARC could claim no less than seven members representing Scotland in events ranging from single sculling to coxed eights. This is excellent experience with the Commonwealth Games in the coming season. Clyde are always on the lookout for new members, either folk keen on competition, or those more interested in gently improving their fitness and learning a new skill.
Photos at: http://nialldarroch3081.fotopic.net/c629452.html
Visit the website at http://www.clyde-rowing.4t.com
Jun 2, 2007