Digest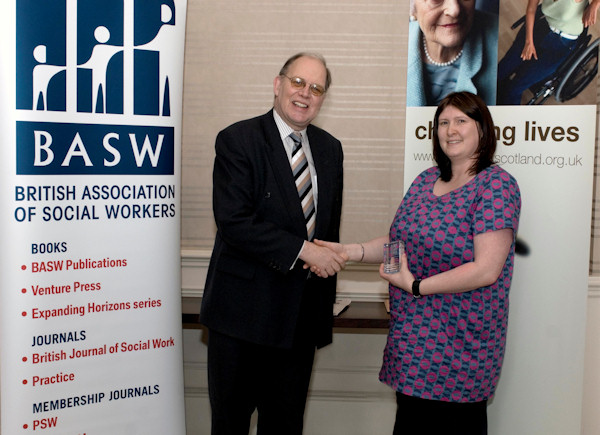 Grace Anne Williamson - Residential Care Worker of the Year
Grace Anne Williamson receives her award from Children and Early Years Minister Adam Ingram
Grace Anne Williamson, 33, who works at Aberlour Child Care Trust's Running: Other Choices (ROC) Refuge in the city, has been named "Residential Care Worker of the Year" by the British Association of Social Workers in Scotland. She received her award from Children and Early Years Minister Adam Ingram at a special ceremony in Edinburgh on the 16th January 2008.
The award recognises her significant contribution in helping to set up, develop and run Scotland's only refuge for young runaways under 16. She is also an SVQ assessor who is dedicated to her own and her colleagues' continuing professional development.
Grace Anne, who is originally from the Shetland Islands and now lives in Dennistoun, is currently Assistant Service Manager at the ROC Refuge. She was one of four original core workers who started work on the project in November 2003. Since opening its doors in July 2004, the refuge has helped 160 troubled youngsters.
Before joining Aberlour, Grace Anne spent two years working with Voluntary Service Overseas in a children's home on the outskirts of Moscow. Prior to that, she worked as a social worker with Shetland Islands Council.
A young person says: "Grace Anne is really good to talk to, listens to you and tries to understand your situation as best she can. She is easy to spend time with, makes you feel comfortable and tries to talk to you as much as possible."
The BASW Scotland Social Work Awards are aimed at recognising the very best in front line social work practice. The winners receive a trophy to keep, a year's free membership of BASW and a European City Weekend Break.
Adam Ingram commented: "These new BASW awards provide a great opportunity to recognise the achievements of front line staff who are dedicated to improving the lives of others. Today we rightly celebrate their hard work, their commitment, their professionalism and their expertise."
Grace Anne said: "I feel very honoured to accept this award. It is encouraging that BASW Scotland has rewarded the efforts of residential child care workers as this is an often unsung area of social work.
"The award not only validates my own practice but highlights the hard work of all the staff at Scotland's only refuge for young people who run away. It also helps highlight the plight of an increasing number of young people in Scotland and the UK and the need for more refuges."
Ruth Stark, BASW Scotland's Professional Officer, added: "This is the first year of our awards and we've been very impressed by the quality of the social work we have seen across Scotland. We want to celebrate this expertise in a wider context and to illustrate the work that is being carried out in very innovative and exciting ways."
The other main award winners were:
Social Worker of the Year - John Black, Project Worker, CHILDREN 1st Family Support Service, East Renfrewshire
Student Social Worker of the Year - Jennifer Lindsay, MSc in Social Work Studies student, Stirling University
Aberlour Child Care Trust: www.aberlour.org.uk
Jan 30, 2008