Digest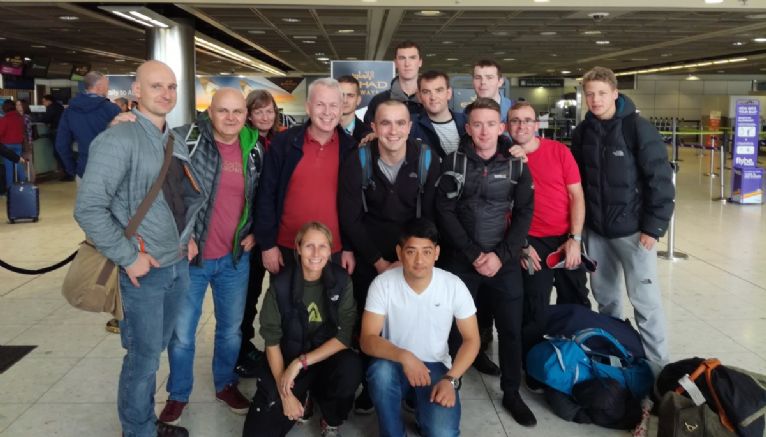 Steven Smith - Former Whitehill pupil heads for Mount Everest Base Camp
(Steven, middle of the photo with black fleece and grey t shirt)
On Sept 15 2017 myself and a group of 14 other serving soldiers will depart Dublin Airport on the first leg of our journey towards Mount Everest Base Camp. The journey will be a long one, with a stop off in Abu Dhabi then on to Kathmandu where we will be staying in the British Gurkha Nepal Camp. After some days to get adjusted, get kit and equipment organised we will begin our journey of walking through one of the most beautiful and extraordinary places in the world, with our goal being Mount Everest Base Camp, at a height of 17,600ft (5,364m).
I grew up in Alexandra Parade in Dennistoun and my childhood was a fantastic one with a few bumps in the road. I was the youngest of 3 brothers raised solely by my mum in our home in Alexandra Court. I attended Alexandra Parade Primary School before moving on to Whitehill Secondary School, just to confirm, school days really are the best of your life. We moved away from Dennistoun very abruptly when I was 11 due to the passing of my oldest brother Jake.
Although we had moved away I still attended school and frequently visited Dennistoun during the week, and mostly every weekend. I had brilliant friends there and I still classed it as my home. I left Whitehill in 2003 to start my life in the big bad world. After some years as an apprentice mechanic and another few odd jobs, I found myself working for FirstBus in Glasgow, which was a fantastic job if you could avoid the weekends, mostly you couldn't though.
I had always flirted with the idea of joining the Army but never really took it any further as things always seemed to get in the way, probably just me doubting myself. But decided to go for it and in August 2011 started my basic training in Pirbright. After what felt like a lifetime of training I was posted to Northern Ireland and haven't looked back. It has been an amazing few years across the water, I met my partner who is now my wife and I am the father of two boys, Lewis and Ollie. We frequently visit Glasgow and stay in my mum's house in Hogganfield. I still make the point to visit Dennistoun when I am home and sneak in for a pint in the La Cala.
Adventurous Training is huge in the Army, to me it is a key factor in recruitment and retention. I have been in the Army for 6 years now and have experienced some amazing things. It would definitely be a career I would recommend to anyone looking for something that little bit different.
The organisation and man hours spent on this trip have no doubt being exhausting for our leaders Major Swanson and Corporal McWhirter. I had the great opportunity to climb Mount Toubkal, Morocco in November 2015 with them and it was the best trip I have ever being on, including lads holidays. This is one of the reasons I joined the Army. As the trip is just around the corner we are making some last minute adjustments and getting our kit organised. I won't say how much I'm looking forward to our expedition as my wife will read this article. But pretty excited anyway.
Steven Smith
Sep 15, 2017