Local Funeral Home Creates Close Knit Community through In Stitches Group

Local Funeral Home C
Events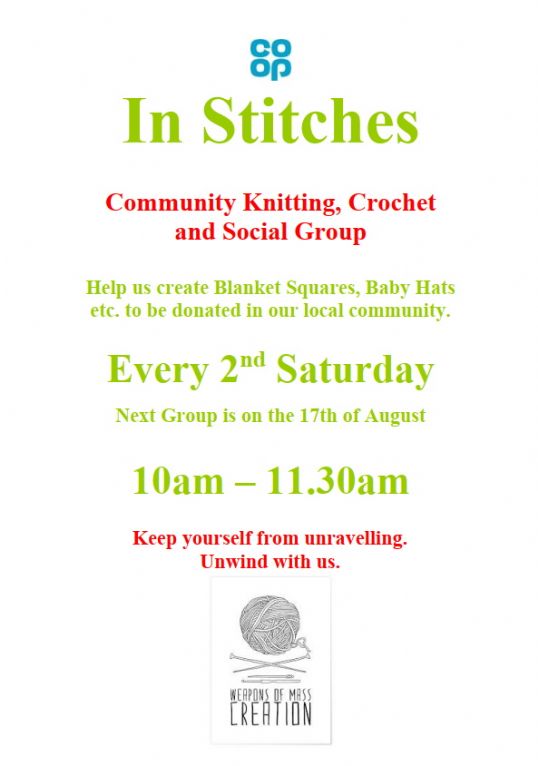 Local Funeral Home Creates Close Knit Community through In Stitches Group
Dennistoun residents are invited to put their knitting skills to good use and join in Co-op Funeralcare's fortnight coffee morning.
The 'In Stitches' club set up by Co-op Funeralcare in Dennistoun, aims to bring together local residents to knit homemade items.
All items of clothing which are knitted by the group will be donated to the local community and local charities.
Alongside bereavement groups and charity fundraisers, the 'In Stitches' coffee morning is one of many ways that Co-op Funeralcare supports the local communities in Dennistoun. The home also supports a number of local causes in the area, which include Toonspeak Young Peoples Theatre, who provide free weekly theatre workshops for young people aged 8-18 in North East Glasgow.
Pamela, the Funeral Arranger at the Dennistoun home, comments: "I decided to set up the 'In Stitches' coffee morning in the hope that we could help foster closer community cohesion in the area, bringing together local residents with similar interests.
"We are starting by knitting blanket squares and baby hats to be donated in our local community.
"The coffee morning is open to all knitters, whether they're complete beginners or experts, it's an opportunity to learn whilst supporting a lovely local cause."
The next 'In Stitches' coffee morning is held on site at Dennistoun Funeralcare Home, 295 Duke Street on Saturday 17th August at 10am until 11:30am.
For more information please contact Pamela by calling the funeral home on 0141 554 4538
Aug 10, 2019