Events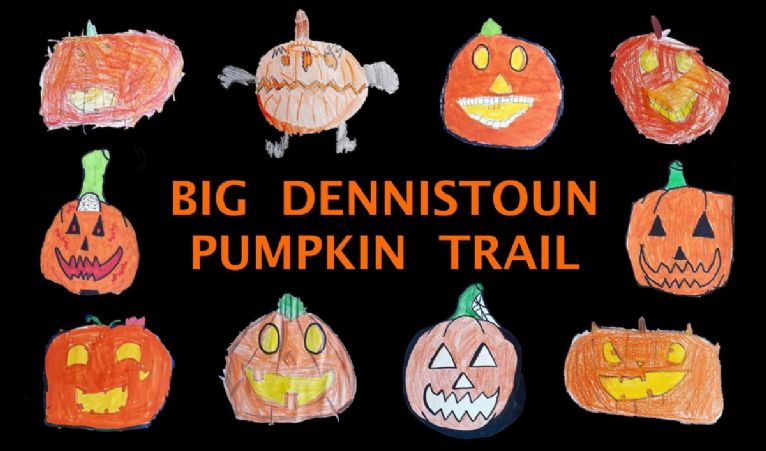 The Big Dennistoun Pumpkin Trail
Halloween Weekend
30 October 2020 (5pm) - 1 November 2020 (8pm)
Golfhill Primary Parent Council are inviting everyone to join them in The Big Dennistoun Pumpkin Trail. An alternative way of guising / trick or treating and a safe way to have fun.
Let's come together and make our streets full of pumpkins - painted on our windows, pictures and drawings displayed, decorations strung and real / plastic ones on our paths and in our gardens! Then kids (and grown ups) can dress up and go on an adventure trail around Dennistoun over the Halloween weekend to see just how many pumpkins of all sorts they can spot. Grown ups can bring sweets and treats and put one in their child's treat bag every time they spot a pumpkin.
Linda Thompson, Secretary of Golfhill Primary Parent Council said: "Like lots of local families, I was disappointed at the idea of Halloween being "cancelled" this year with no trick or treating for local kids. I saw the idea doing the round on social media of safe Pumpkin trails and decided to take it to the Golfhill Parent Council to see if we could get the ball rolling to organise the trail in our area, getting the community involved in something light hearted and creative and doing something for the kids on Halloween. A different chance to dress up and head out instead of the traditional guising / trick or treating.
The idea is that households decorate their windows with pumpkins - painted, picture, decorations, models - homemade or bought and if they want to - put pumpkins of whatever kind out in gardens or on their steps etc. We would love businesses to get on board and put some kind of pumpkin in their windows too."
You can let Golfhill Primary Parent Council know that you are taking part on Eventbrite and your position will be pinned on the map.
You can check out their map to see where you want to go on your trail.
Send pictures of your own pumpkins and adventure along the trail to the Pumpkin gallery at the Golfhill Primary Parent Council facebook page.
https://www.facebook.com/events/259216842127379
Oct 18, 2020