Events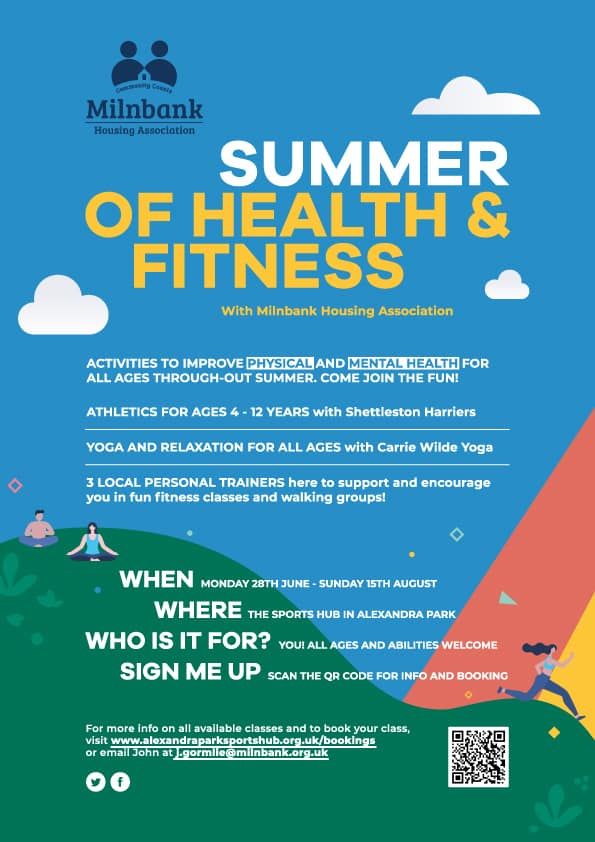 Summer of Health and Fitness
placeAlexandra Park Sports Hub, Alexandra Park
event28/06/2021 - 15/08/2021

This summer Alexandra Park Sports Hub has added athletics with run, throw & jump, new fitness classes, health walks and family friendly yoga classes to the weekly timetable.

Shettleston Harrier's qualified coaches will be there 5 days a week for the entire school summer holidays with athletics for 4 – 12 years. Cost per child is £1 payable on the day for the daily 2 hours session. If paying is an issue worry not as an honesty policy will apply to these sessions meaning no child will miss out if they want to take part.
Health walks are on Tuesdays and Fridays. The walks will be a great way to socialise and share experiences and you finish up at the Sports Hub Courtyard for a nice tea/coffee and a blether.
For those of you with pre school children Carrie Wilde Yoga will be on the greens every Tuesday welcoming you and the wee ones for movement, big breaths and laughter.
T'ai Chi continues to run weekly along with the Finding Motivation yoga class keeping you calm as we move out of restrictions.
Adult fitness classes will be on 6 days a week and are a welcoming environment to all abilities and are free of charge.
Cycling workshops and cycling activities, free family fun tennis, putting, bowls and football too 7 days a week!
Jun 29, 2021