News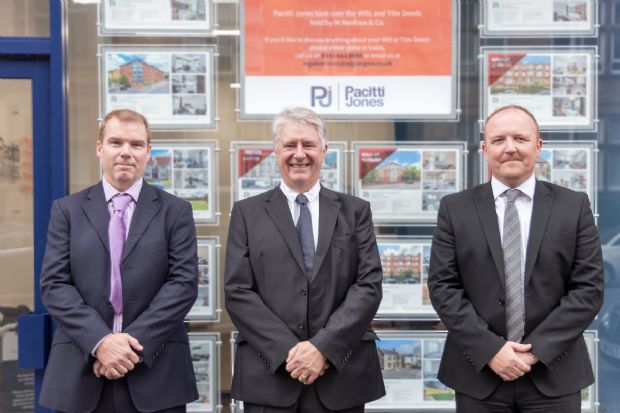 Leading Scottish Estate Agency acquires local law firm in Dennistoun
Scotland's leading legal and estate agency, Pacitti Jones, is continuing to expand its operation throughout Scotland with the acquisition of 167-year-old law firm Alexander, Jubb & Taylor, based at Dennistoun in Glasgow.
Highly regarded solicitor Bill Nugent has been serving the local community of Dennistoun from his practice in Annfield Place for decades, specialising in the legal services individuals and families need, whether in good times, such as moving home, or helping through life's hard times such as bereavement. He is delighted to join forces with a company that also believes in the value of personal, local service. "I have been looking at succession for some years and wanted to find a home for my clients and business with a business which shared our ethos and commitment to the local community and delivering services locally and in person," he said.
"Pacitti Jones clearly shared my view that the High Street is not dead, and that people deserve locally based, professional services within their community," he added. Bill will now be working less than half a mile away at 648 Alexandra Parade, within the expanded Pacitti Jones business incorporating Alexander, Jubb & Taylor.
Pacitti Jones CEO, John O'Malley, said: "We are delighted to have Bill and Alexander, Jubb & Taylor join Pacitti Jones. From our branch in Alexandra Parade, we see the vibrancy of the local area - with new businesses popping up and new house building planned there is a buzz about Dennistoun and its surrounds. We continue to remain committed to delivering professional services within local communities and look forward to adding our estate agency, landlord letting services and financial services to the legal offering of Alexander, Jubb & Taylor, providing wraparound care for all the property and legal needs of local people.
"We think that personal service will always beat the anonymity of the internet when it comes to crucial matters like making a Will, buying a house or dealing with a loved one's estate, so we would like to invite anyone passing the branch at 648 Alexandra Parade to pop in and get to know us."
Pacitti Jones has eight branches across Glasgow and Central Scotland and was keen to expand in Dennistoun, in the East End of Glasgow, because of the area's vibrancy and young population. Ranked as the 8th coolest neighbourhood in the world in Time Out last year, as well as "one of the best places to live" by The Times newspaper, Dennistoun is an up-and-coming area and an attractive destination for both house buyers and businesses.
Known for its medieval Gothic cathedral and vast Necropolis cemetery with monuments by Charles Rennie Mackintosh, as well as for its traditional pubs, trendy craft beer bars and family-run Italian restaurants, Dennistoun has a higher than average population of working age people, and has been identified by Glasgow City Council as being "attractive to younger more mobile households".
By combining forces with a well-respected and long-established local business, Pacitti Jones is confident of serving this growing market of house buyers and house movers long into the next century.
Directory: Pacitti Jones
Image: John O'Malley, Bill Nugent and Paul McTamney (Managing Partner – Burnside & Dennistoun)
Sep 7, 2021